Name: Frank West
Name of Form: Megaman
Apperance:
Zooooooooooom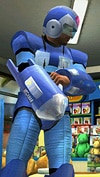 What does it do: Let's me shoot liek Megaman! =D Let's me shoot the mega blaster (See below for damage)
How much Skill Points: Dah...20
Special Attacks: Mega Buster - 60 Damage.
Rolling a Die (Chancing) is optional
Roll a die, depending on the numbers, they have the following effects:
1 - Opponent takes 5 recoil damage for their next attack
2 - Frank takes 5 recoil damage
3 - Frank recovers 5 health
4 - Everyone in the fight (including Frank) takes 5 damage
5 - Frank gains 10 Skill Points
6 - The damage of the blaster goes to 100 (100 damage to the enemy) and Frank reverts to normal form, also taking 30 damage (Frank takes 30 damage).
(NOTE ON 1: This can be avoided by not attacking)
History: It's really never explained...he just somehow aquires it O_o