Name: Hatsuharu (or Haru) Sohma
Gender: Male
Race: Ummmm, Idk? He's Japanese, though
Good or Evil: man, superly good!!! (Unless provoked)
Game: None. Unless they made a Fruits Basket game that I have no idea about!
Appearance: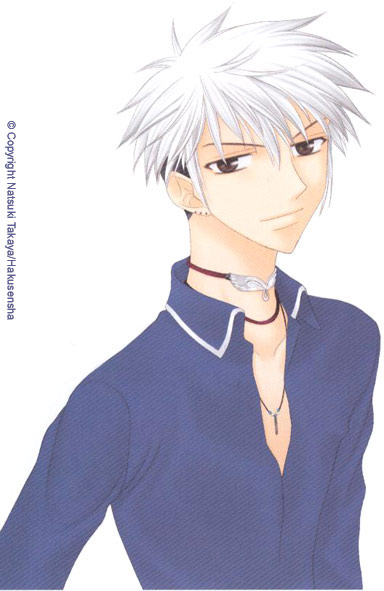 Yeah, it's a pretty large pic, but if you gotta shrink it, go on ahead.
Strengths: Ummmm, he's cute? Well, he's cool and can remain calm very easily (total lie) and is nice...idk any strengths! He's kind, though. And when he's Black Haru, as i will mention in weaknesses, he can kick but like h-e double hockey sticks, man! (Sorry...;P)
Weaknesess: He turns into Black Haru when he's p.o'd and that's pretty dangerous...
Homeland: Tokyo, Japan
History: Um, he's from this awesome manga called Fruits Basket and this awesome show called Fruits Basket and he's, like, hot...and awesome!!!!! Sorry, but it's a really good show. You should rent the show or go on youtube and look up Fruits basket funny moments and click on anyone that you think speaks english. Just check all fo them, but it's a great show!!!! He turns into a cow (long story) when hugged by someone of the opposite gender because that's his zodiac sign!!!!! Ok, yeah, well, whatever