Name: Chespin
Name of Form: Autumn Season Form
Appearance: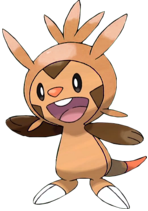 What does it do: It decreases Defense and Special Defense by 1 level only with stats, but increases Attack and Special attack stats sharply, which is 5 levels up for the stats only.
How much Skill Points: 15 Skill Points
Special Attacks: Autumn Allergy, Leaf Storm, Vine Whip
History: Once Chespin saw the fall/autumn season coming, seeing he was changing color and losing chlorophyll [clour-uh-FILL], he thought something bad was going to happen from losing chlorophyll. But actually something happened with his defense, not being as defensive as usual. But he realized his Special Attack and Attack stats rose, testing the strength on a sand bag.
Other: This form changes automatically when the fall/autumn season comes. This form and all other season forms will last for about 2 and 3/4 months.