The Kirby Misadventures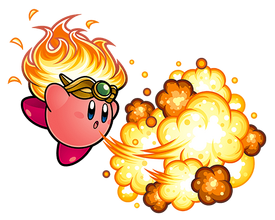 Mr. Chilly's
Red and Blue were running down the sidewalk, slowly slowing down as they got tired, and started to walk.
"Man, I'm gonna get a quadruple scoop! You can get a fudge pop," said Blue excitedly.
"...I'm starting to think that this was a bad idea," Red replied.
"Come on! What can possibly go wrong?" Blue encouraged. Just that moment, Red saw Dee coming down the sidewalk towards them.
"Blue, it's Dee! What are we gonna do!?" Red panicked. But it was too late; Dee was already next to them.
"What are you guys doing here?" Dee asked. Dee is Kirby's best friend from school, a Waddle Dee, and eight years old like Kirby. He has a green baseball hat that he wears all the time.
"Well we were just walking around the tow—CHEESE-IT!" Blue yelled as he ran away from them.
"Alright Red, spill it. What are you doing?" Dee asked.
"Well...Blue and I thought it would be a cool idea to get some ice-cream so...that's what we're doing...."
"So, what your saying is that you snuck out and disobeyed your parents just to get ice-cream...?"
"Well...yeah."
"Gimme five little man!" exclaimed Dee as he gave Red a high-five.
"So you're not going to tell on us?" asked Red, relieved.
"Nah, but you should be heading home soon."
"Thanks Dee, see ya!" called Red as he ran off in Blue's direction. He caught up to him a few minutes later at Mr. Chilly's ice-cream shop.
"Yes, one triple scoop and a fudge pop, please. Thank you," Blue said to the Chilly at the counter. He turned around and started walking towards Red. "Hey Red! I got you your fudge pop!" said Blue cheerily as he handed Red his ice-cream.
"Thanks Blue. Hey, Dee was really cool about the whole getting ice-cream thing," Red told Blue as they walked away from the shop. When Red and Blue turned the street corner, Red smacked into Kirby, almost spilling his ice-cream.
"Hey! What are you guys doing here? Aren't you like, grounded or something?" asked Kirby.
"Yeah, well there's a funny story abou—CHEESE-IT!" screamed Blue as he ran down an ally way.
"I GOT THIS!" declared Kirby as he ran down the ally after him. Red watched the chase from the sidewalk. Blue hopped over a fence, trying to get away from Kirby, but Kirby hopped the fence just as easily. Then Blue knocked some trash cans over in an attempt to slow him down, but Kirby easily jumped over them as well, and tackled Blue to the ground.
"Hey, you spilled my ice-cream!" whined Blue.
"Blue, I'm so sorry, I would never, ever, mean to spill food, I'm serious, it was a total accident!" Kirby replied hastily and wholeheartedly.
"Now you're dead!" screamed Blue as he turned into Ice Kirby.
"Bring it!" challenged Kirby as he turned into Sword Kirby, starting to twirl his sword around. Blue shot a barrage of icicles at Kirby, but he blocked all of them with his sword. Then Blue made a giant wave of ice and threw it at Kirby, but he jumped over it and slashed Blue in the head with his sword.
"When I say 'I got this', I mean, I GOT THIS!" explained Kirby as he picked up an unconscious Blue and walked out of the ally to Red.
"Okay Red, time to go home," said Kirby as he nudged Red to get moving.
"Wait, what happened...and why is Blue knocked out?" asked Red as they started walking home.
"Well, let's just say he didn't know the meaning of, 'I GOT THIS!' " The two of them continued to walk in silence until they got home.
"Mom! When's dinner?" asked Kirby obnoxiously as he threw Blue down onto the living room couch.
"In a half hour," his mom replied as she made her way into the living room. "Kirby! What happened here?!"
"Well, Red and Blue snuck out to get ice-cream, and then I found them, and then Blue ran into an ally, and then Blue didn't know the meaning of 'I GOT THIS!', and then I brought them home, and here we are," Kirby explained as only he can.
"Well, that's great and all but...that still doesn't explain why Blue is laying on the couch with a giant bump on his head!"
"Well, Kirby was telling the story right until he chased Blue down the ally. He forgot to mention that he got into a copy fight with Blue and knocked him out," explained Red.
"KIRBY! Go to your room right now! You're grounded for the rest of the day with no dinner!" his mom shouted.
"Bu—but mom! How could you? No dinner!? That's a little over doing it, don't you think? Come on, can't we be rational here!?"
"Kirby! Room! Now!" yelled his mom.
"Alright mom...I'll go, but just remember, you've lost my respect until next meal!" Kirby sobbed, dashing up the stairs and running into the wall at the top, forgetting to turn.
"As for you two..." she looked over at Red and the still unconscious Blue, "You're grounded for a week! That means no video games, no leaving the house, and no leaving you're room unless you have to use the bathroom!"
"What!?"
"NOW GO!"
Red sighed as he carried Blue up the stairs, stepped over Kirby, and walked into his room.
"Wa—what happened?" Blue asked as he woke up on his bed.
"We're grounded for a week," pouted Red as he flopped onto his bed.
"Wait! Wha—" Blue gasped as he passed out...again. Red sighed.
End Of Chapter 3